A JIHAD TO PROSPER ALL MALAYSIANS
By Tan Sri Muhammad Ali Hashim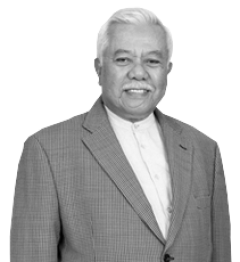 Business Jihad is the better alternative to the jihadic war of the Islamic State
Contrary to popular understanding, 'jihad' if interpreted literally in Arabic is not about war, but a 'striving'.
The killings and bombings in Iraq and Syria has been going on for too long, destroying innocent lives and tearing apart communities, forcing millions to become refugees. This prolonged state of war has now led to a spillover of violence, with murder and mayhem becoming borderless acts of terror affecting many countries, and has even affected Europe, causing mass fear and chaos.
In Europe, these borderless counter killings were undertaken largely by people who swear allegiance to or are inspired by the so-called "Islamic State of Iraq and Syria" or the Islamic State (IS), in the name of Islam and under the banner of jihad. Unsurprisingly, popular opinion especially in the West, often attributes the root cause of the so-called "Islamic terrorism" to Islam itself, particularly the Islamic doctrine of "jihad".
Indeed, jihad is incumbent upon all Muslims, whenever their faith, livelihood and community are under existential threat. Undoubtedly, IS has exploited to the full this Islamic concept of the obligatory jihad, narrowly interpreting it to suit its violent cause. To stop the killings, there are those who insist that Muslims must therefore simply reject jihad. Such a call, however, will not only be futile, but will more likely invite a reverse response. Stopping a jihadic war is an extreme challenge as jihad is so deeply embedded in the psyche of the Muslim faithful.
The overwhelming sense of Muslim vulnerability, compounded by mass poverty and powerlessness blamed particularly on past colonization and Western global domination, have only added to the complexity of the issue. The onus, however, is particularly on Muslims themselves to contain the spread of the twisted militant jihad ideology in their midst.
Malaysians should be equally concerned and must respond to this threat, as several young Malaysians have volunteered to fight for IS or otherwise sworn allegiance to IS' jihadic cause. What is needed, therefore, is a creative strategy aimed at mobilising jihad; not rejecting it, but harnessing its powerful spiritual energy and channeling it away from violence and destruction towards constructive and meaningful outcomes.
To my mind, there are at least two top priority areas that Malaysians must focus on in relation to jihad, starting firstly with the need for a new jihad narrative. Contrary to popular understanding, "jihad" if translated literally in Arabic is not about war, but a "striving". The Quran itself spoke of a "greater jihad" (Surah al Furqaan, 25:52). The "greater jihad" is not warfare waged in the world against external adversaries but is rather an internal spiritualised war waged against the self and its base impulses.
Thus, Malaysian Muslims can choose to pursue several peaceful jihad options, including "civilizational jihad" or jihad al-madani as articulated by Dr Yusuf al-Qaradhawi in his book Fiqh Jihad. The second priority is the need for a jihad to overcome poverty which stands as the principal cause of Muslim marginalization, powerlessness, grassroot exasperation and mass anger.
In the real world of a global economic system that is business-driven, "Business Jihad" aimed at empowering the ummah and prospering everyone especially at the bottom of the economic pyramid, is indeed an imperative. Clearly, Business Jihad would be in full alignment with man's khalifatic duty to prosper the earth and all of God's creation.
The Business Jihad enterprise calls for Malaysian Muslims to creatively harness the dynamics of jihad aimed at achieving a quantum leap out of poverty towards economic khalifahship. Though a new concept, Business Jihad is not mere rhetorical sloganeering.
The Business Jihad undertaken by Johor Corporation (JCorp) from 1982-2010 when I had the privilege of serving as CEO, had enabled JCorp to register a track record of formidable business performance, especially in the period after 1995. Business Jihad transformed JCorp from a state GLC into one of Malaysia's leading corporate entities, creating job opportunities and entrepreneur building companies such as KPJ Healthcare Bhd and Kulim Malaysia Bhd.
These companies sprung from modest beginnings to grow among Malaysia's top 100 public listed companies (PLCs), culminating in Kulim listing a subsidiary company on the London Stock Exchange. Kulim also made corporate history when it successfully acquired two PLCs in one of corporate Malaysia's most audacious, hostile and prolonged acquisitions involving KFC and Pizza Hut brands in 2006-2007.
There is no doubt in my mind that the Business Jihad ideal integrated into JCorp's corporate strategy was one of the critical factors contributing to JCorp's extraordinary success. The same spirit of Business Jihad dynamics is now being championed by the Malaysian Islamic Chamber of Commerce.
The aim is to make Business Jihad the principal motivational force to inspire and energise young Muslims to pursue business and entrepreneurial careers that will in the long run also prosper and benefit all Malaysians for generations to come. Business Jihad is truly a constructive, peaceful and worthy jihad alternative to the senseless killings and endless, wanton destruction of militant jihad waged by terrorists.
(This article was published by The Star, "IKIM views", 6th September 2016)